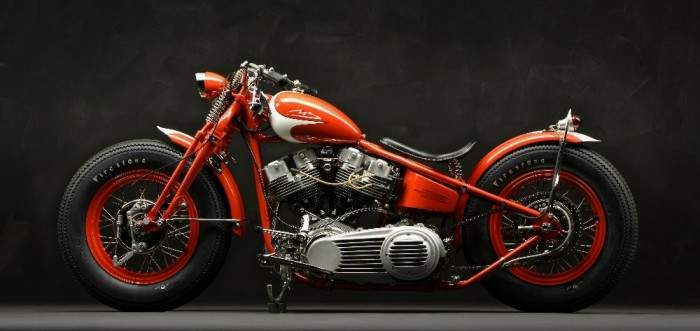 Several of Schumacher friends had conspired to present him with a going-away gift that didn't require a ribbon. Knowing that Schumacher was also a big bike fan, having several in his garage back home in Switzerland, they came up with a plan thanks to a Ferrari owner in the Los Angeles area who suggested, "Hey, why not build him a one-off, very cool, custom bobber?" And, of course, paint it Ferrari red. He knew just the place: the Garage Company, home of vintage and classic bikes as well as the shop's unique line of retro-bobbers.

Dubbed the "MS Bobber" (a.k.a. Speed Boy Special), the bike seen here was built from the ground up in just 22 days after Yoshi, the Garage Company's honcho, got the word about the project.

Based on a 1981 80-inch Shovelhead, the hot-rodded engine features S&S rods, KB pistons, Rowe valves, a Sifton cam and Crane Lifters, all fed from a classic "peanut" gas tank via an S&S E carb and treated to what the Garage Co. calls a "natural finish." Details include a vintage H-D six-inch air cleaner for easy breathing. The Shovel shifts gears through a matching 1981 H-D four-speed gearbox benefiting from a Primo clutch/primary drive combo while the whole drivetrain is embedded in a 1981 H-D hardtail frame with a 33-degree rake.
Matching engine, tranny and frame keeps the nostalgia factor at full throttle, as does the Springer front-end teamed with a set of vintage triple trees.
It's a Bobber, so 16-inch doughnuts are a must front and rear, and classic Firestones at that. Drum brakes are there if you feel like slowing down.
In the fit-and-finish department, the bike wasn't just painted Ferrari red in commemoration of Schumacher's 10 years with the manufacturer, but specifically 2006 factory Ferrari F1 red. Jim's Cycle Painting sprayed it on with special graphics created by Bob Iverson. While the Bobber is a non-chromer, it does sport some nickel-plated goodies courtesy of Supreme Plating.
They say greatness is in the details, and the MS Bobber has a list of them including: oil tank and hand controls from Tedd Cycle; Autometer gauge; CCI headlight; solo seat by Back Drop USA; and the Garage Company's own take on handlebars, license mount and LED taillight.